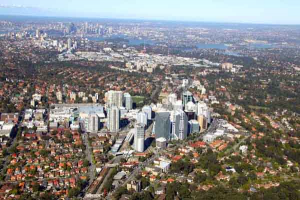 Chatswood is in effect a double-barrelled name, in honour of "Chat" (Charlotte) Hartnett, the wife of district pioneer and former Mayor of Willoughby, Richard Hartnett, and the original "wooded" nature of the area.
Chatswood is located approximately 9 kms from the Sydney CBD and continues to be a very popular residential area as well as an expanding commercial hub, producing a consistently growing population of 13,513 (according to the 2006 census). Spread over 2.9 km sq the Chatswood CBD is one of the North Shore's major commercial and retail districts. In the suburb of Chatswood, you will find everything from studio apartments to stately homes, all within a short distance of shopping amenities, parks, a golf course, schools, child care centres and a major regional transport hub. Significant bushland areas are located along the Lane Cove River and the foreshore of Middle Harbour.
The new Civic Place, known as The Concourse, was completed in 2011 and contains the new library as well as a 1,000 seat concert hall, a 500 seat theatre and a multi-purpose hall. There is a new public art space, a rehearsal studio for the performing arts, and a mix of retail, cafe and commercial tenants, serviced by over 400 car spaces. The main building resides among a landscaped open space for the public to enjoy, including a huge outdoor television/screen. Recent performance at the Concourse have included the English Ballet & X factor.